ROBOTIS OP: Advanced ROS based Humanoid Robot
PishRobot is Exclusive distributor of ROBOTIS Products in Iran.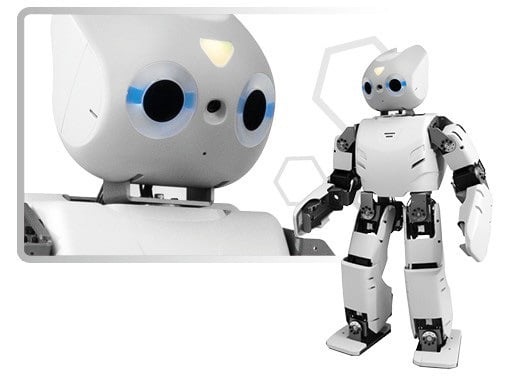 ROBOTIS OP robot series are affordable, miniature-humanoid-robot platforms with advanced computational power, sophisticated sensors, high payload capacity and dynamic motion ability to enable many exciting research, education and outreach activities.

"ROBOTIS OP3" is a new version of "ROBOTIS OP2" and "ROBOTIS OP" that was formerly known as "DARwln-OP". ROBOTIS OP3 is a ROS based humanoid platform ideal for SLAM, HRI, Machine Learning, Machine Vision and Artificial Intelligence projects.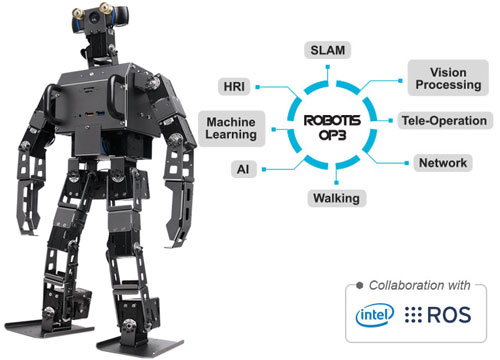 High Performance and Advanced Features
 Default walking speed: 24.0 cm/sec (9.44 in/sec) 0.25 sec/step - user modifiable gait 0.25 sec/step - user modifiable gait
 Default standing up time from ground: 2.8 sec (from facing down) and 3.9 sec (from facing up) - user modifiable speed (from facing down) and 3.9 sec (from facing up) - user modifiable speed
Built-in PC: Intel Atom N2600 @1.6 GHz dual core, RAM 4GB DDR3, 32GB mSATA
(For up-to-date information Check http://sourceforge.net/projects/darwinop)
 Management controller (CM-740): ARM CortexM3 STM32F103RE 72MHz
 20 actuator modules (6 DOF leg x2+ 3 DOF ann x2 + 2 DOF neck)
 Actuators with durable metallic gears (DYNAMIXEL MX-28T)
 Self-maintenance kit (easy to follow steps and instructions)
 Standby mode for low power consumption
 1Mbps high-speed Dynamixel bus for joint control
 1800mAh LIPO Battery (30 minutes of operations), charger, and external power adapter
(Battery can be removed from robot without shutting down by plugging in external power before removal)
 Versatile functionality (can accept legacy, current, and future peripherals)
 3-axis gyro, 3-axis accelerometer, button x3, detection microphone x2
Built-in PC: Intel NUC with an Intel Core i3 processor, RAM 8GB DDR4, 128GB M.2 SSD
Management controller (OpenCR): ARM Cortex-M7
20 actuator modules (6 DOF leg x2+ 3 DOF arm x2 + 2 DOF neck)
Actuators with durable metallic case & gears (DYNAMIXEL XM430)
Self-maintenance kit (easy to follow steps and instructions)
Standby mode for low power consumption
4.5Mbps high-speed Dynamixel bus for joint control
1800mAh LIPO Battery (30 minutes of operations), charger, and external power adapter
(Battery can be removed from robot without shutting down by plugging in external power before removal)
Versatile functionality (can accept legacy, current, and future peripherals)
3-axis gyroscope, 3-axis accelerometer, 3-Axis magnetometer, button x4, microphone x2, speaker x1
Simple and Clean Architecture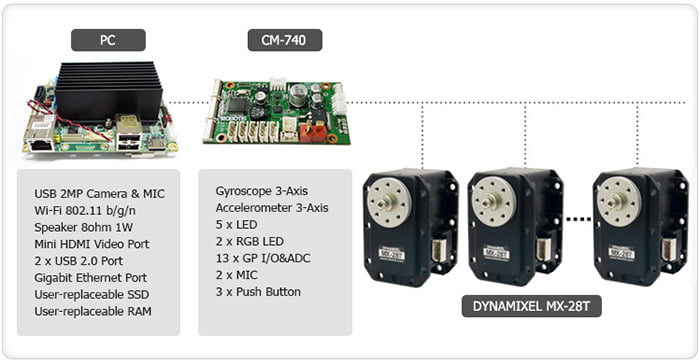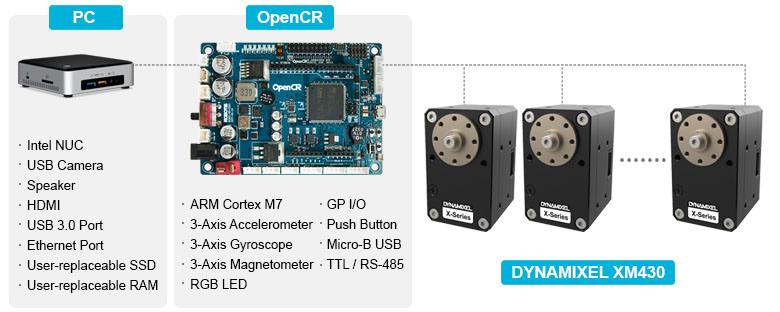 Open Platform (Hardware and Software)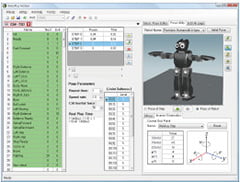 Mechanics Information
(Dimensions, Kinematics, Dynamics, CAD data)
Electronics Information
(Controllers, Sub B/Ds, Schematics, Part Information)
Software Information
(Development Environment, Framework, Source Code)
Management Information
(Detailed Assembly Diagrams, User Manintenance Guide)
Community Resources
(User-developed Code, Various Application Examples)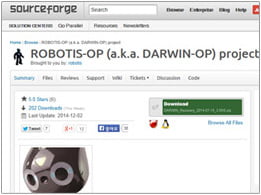 Dimensions and Weight - ROBOTIS OP3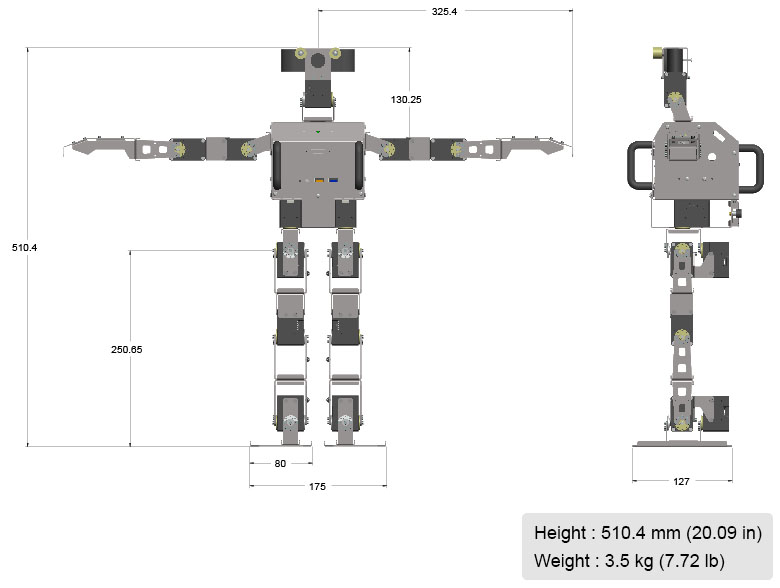 Dimensions and Weight - ROBOTIS OP2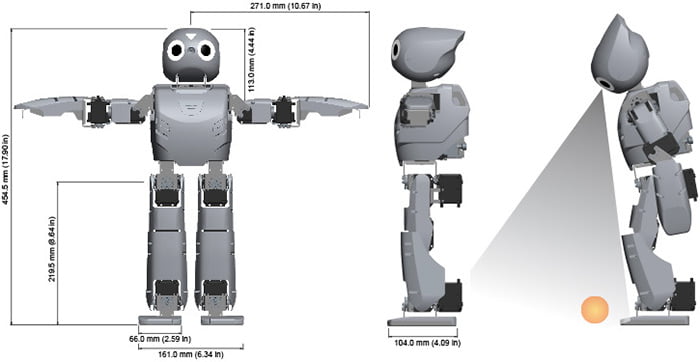 Specification Comparisons
ROBOTIS OP
(discontinued line)

ROBOTIS OP2

ROBOTIS OP3

Actuator
MX-28T
MX-28T
XM430-W350
CPU
Intel Atom Z530
@1.6GHz single core
Intel Atom N2600
@1.6GHz dual core
Intel Core i3 processor
dual core
RAM
1GB DDR2
(fixed capacity)
4GB DDR3
204-pin SO-DIMM module
(user-replaceable)
8GB DDR4 SODIMMs 2133MHz
(32GB maximum)
(user-replaceable)
Storage
4GB NAND flash IDE100
(fixed capacity)
32GB half-size mSATA module
(user-replaceable)
M.2 SSD module (128GB)
(user-replaceable)
LAN Speed
100 Mbps
1 Gbps
1 Gbps
Installable OS
Linux only (32-bit)
any Linux release (32-bit)
any Windows release (32-bit)
any Linux release (32-bit/64-bit)
any Windows release (32-bit/64-bit)
Networking
802.11g
802.11n (2.4GHz-only)
Intel 10/100/1000 Mbps Ethernet
802.11ac (2.4GHz, 5GHz)
Bluetooth 4.1
Camera
Logitech C905 (1600x1200)
Logitech C905 (1600x1200)
Logitech C920 (1920x1080)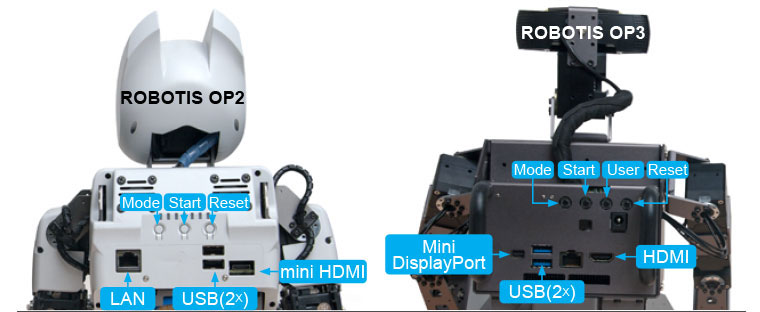 Advantages of ROBOTIS OP3 compared to ROBOTIS OP2
New Actuators (higher torque)
Increase of SSD capacity
Increase of RAM capacity
Dramatic improvement in computational power
Replacing Mini HDMI with HDMI
User friendly sub-controller(CM-730 → OpenCR)
Improved camera